DOCUMENT DIGITIZATION SERVICE
DOCUMENT DIGITIZATION SERVICE
In the trend of digital transformation, organizations and businesses are increasingly interested in digitizing documents. However, the self-implementation of digitization projects causes many difficulties: large investment costs, lack of qualified personnel, and lack of equipment and processes… Therefore, finding a reputable company providing document digitization services plays an important role.
SAIGONBPO is a company with experienced experts in document digitization. SAIGONBPO has successfully implemented document digitization projects of various scales and has become a reliable service provider for many domestic and foreign companies. With the ability to quickly deploy, be flexible and professional, SAIGONBPO is committed to providing clients with quality, accurate document digitization services at an appropriate price.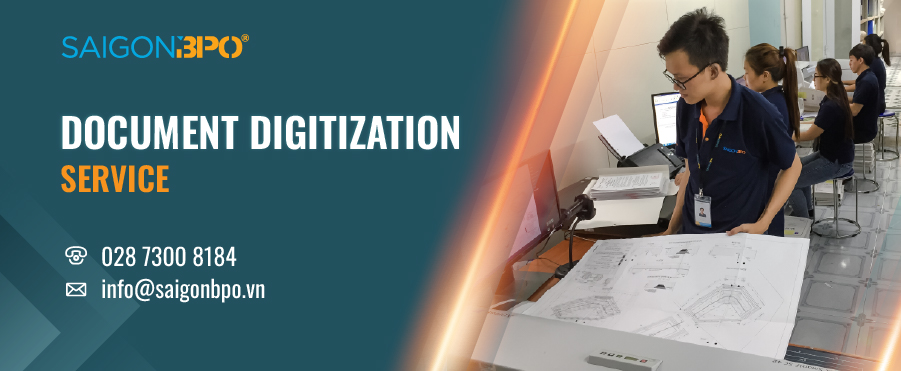 What is document digitization?
Document digitization is the process of converting a hardcopy (physical) document into a digital format that can be managed and used on digital devices. This is an important step to take the next steps in the digital transformation/business process.
Benefits of Document Digitization
Digitizing documents brings many benefits to businesses, including:

Centrally manage documents

Access and share information easy, secure, and not limited by time and space

Reduce space to store documents
Importantly, document digitization is the foundation of the digital transformation process, helping businesses reduce costs, increase operational efficiency, and improve competitiveness for sustainable development.
Document digitization process
SAIGONBPO will flexibly adjust the digitization process depending on customer requirements.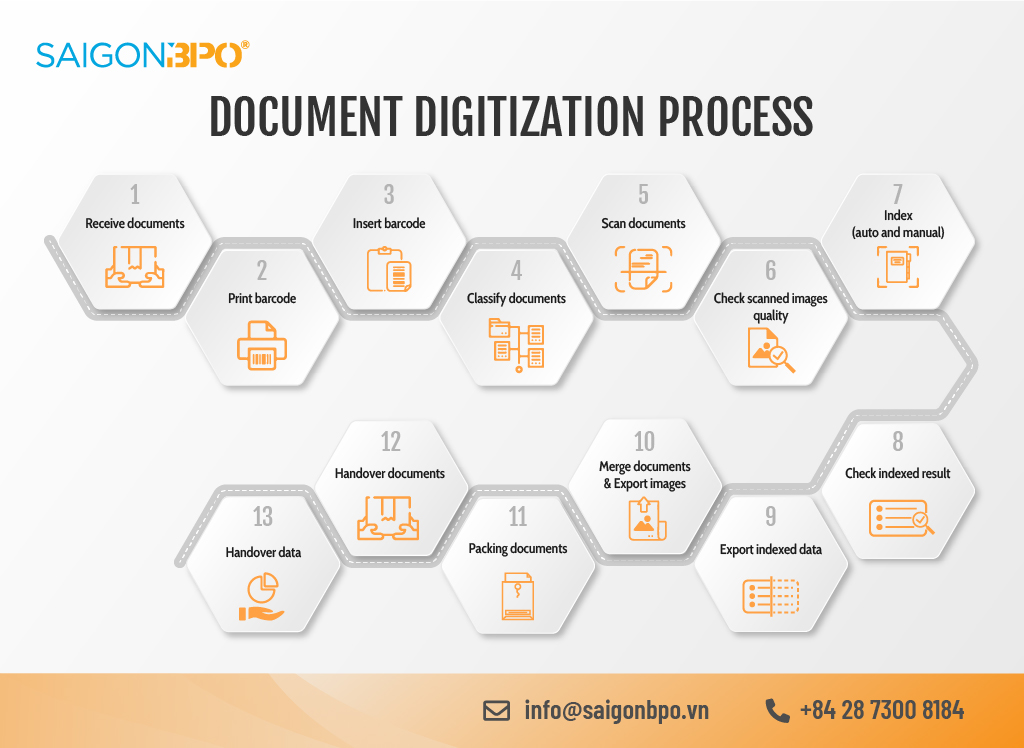 Standard document digitization process at SAIGONBPO 
Technology applied in the digitization process

Automatic character recognition: OCR, ICR, OMR

Indexing software

Digitization management software

Barcode technology

Self-developed digitization software
Why choose SAIGONBPO's digitization service?
SAIGONBPO's Digitization service is also trusted by customers because of the following highlights:

Expertise in processes and operations

Quick deployment time

Modern, high-speed scanners

Digitize documents of any paper size

Strict quality and process control
SAIGONBPO is a Business Process Outsourcing (BPO) service provider specializing in Finance, Banking and Insurance. Committed to providing effective, confidential and high-quality services at a reasonable price, SAIGONBPO aims to become a strategic and long-term partner of clients, accompany clients' development, and support our clients in archiving their business goals fastest and most effectively.
For details of document digitization service, please contact SAIGONBPO:
Hotline: +84 28 7300 8184
Email: info@saigonbpo.vn