NEWS: "SAIGONBPO – A COMPREHENSIVE BPO PARTNER OF FINANCE, BANKING AND INSURANCE COMPANIES
Recently, reputable websites such as VINASA, Biztek, Nhip Song So, Sao Khue Award, ICT Directory… have posted and introduced comprehensive outsourcing services of SAIGONBPO to the readers.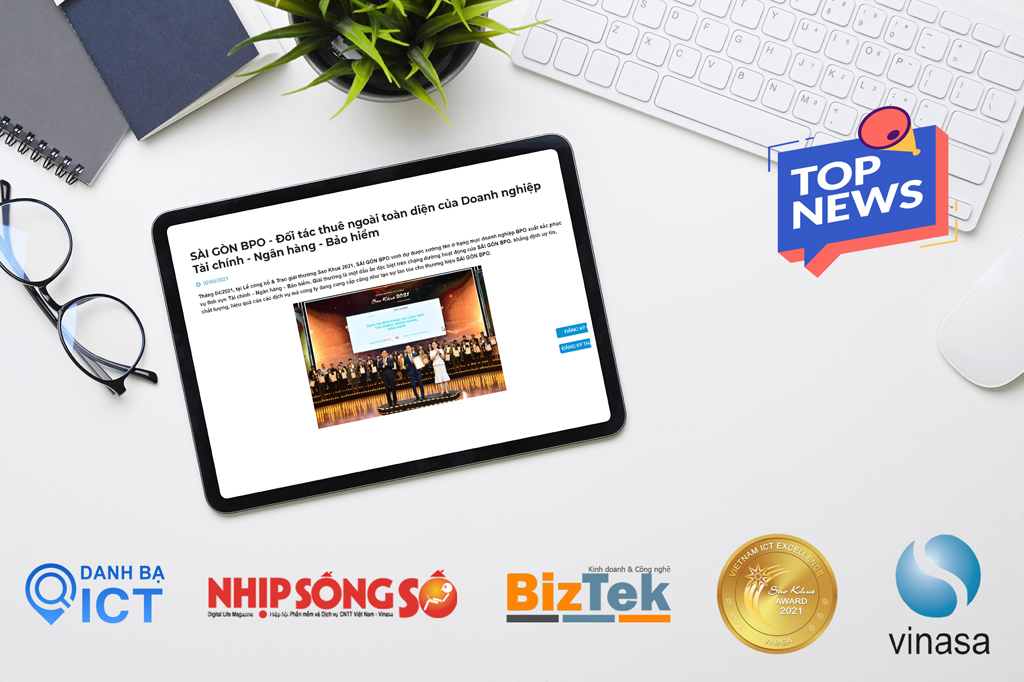 Introduction about SAIGONBPO on ICT Directory, BizTek, Sao Khue Award, Vietnam Software and IT Services Association (VINASA)
These websites have shared details about BPO services of SAIGONBPO and affirmed the differences that help SAIGONBPO stand out from other BPO businesses in the market.
Specifically, SAIGONBPO is capable of providing comprehensive BPO services to clients in Finance, Banking, and Insurance industries. The services bring high efficiency, meet client expectations and help them achieve business goals quickly.
With many outstanding advantages, SAIGONBPO's services promise to conquer many new clients, especially clients in Finance, Banking, Insurance that are growing fast or expanding their scope.
Please see detailed content at the following links:
– ICT Directory: https://danhbaict.vn/tin-tuc/sai-gon-bpo-doi-tac-thue-ngoai-toan-dien-cua-doanh-nghiep-tai-chinh-ngan-hang-bao-hiem
– Sao Khue Award: http://giaithuongsaokhue.vn/2021/08/02/sai-gon-bpo-doi-tac-thue-ngoai-toan-dien-cua-doanh-nghiep-tai-chinh-ngan- hang-bao-hiem/
– VINASA: https://vinasa.org.vn/vinasa/4/3076/4213/15299/Tin-chuyen-nganh/Sai-Gon-BPO—Doi-tac-thue-ngoai-toan-dien-cua-Doanh -hiep-Tai-chinh–Ngan-hang–Bao-hiem.aspx
– NSS: https://nss.vn/sai-gon-bpo-doi-tac-thue-ngoai-toan-dien-cua-cac-doanh-nghiep-tai-chinh-ngan-hang-bao-hiem-23636.htm
– Biztek: http://www.biztek.vn/ca125-n42733-sai-gon-bpo-doi-tac-thue-ngoi-toan-dien-cua-cac-doanh-nghiep-tai-chinh-ngan-hang -bao-hiem.htm