THE EMOTIONAL YEAR-END REVIEW 2021 OF SAIGONBPO
On January 7, 2022, SAIGONBPO organized the Year-End Review with many exciting activities to summarize the year 2021. The event created conditions to connect SAIGONBPO-ers, look back at the special year, and understand the company's orientation in the new year.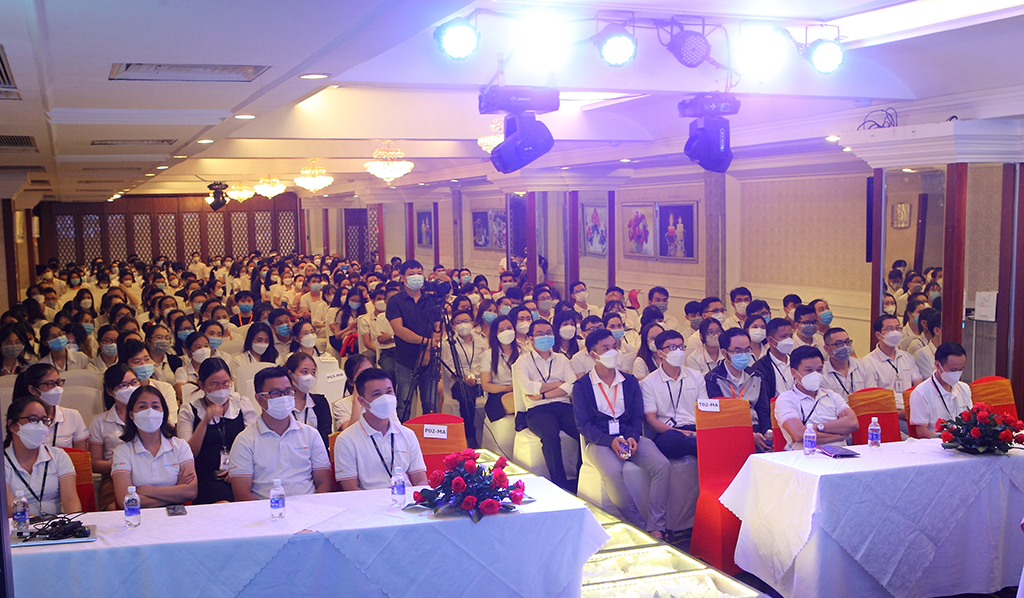 Nearly 400 SAIGONBPO-ers appeared at the event in white corporate uniforms
Year-End Review 2021 took the SAIGONBPO-ers through many special emotions: rejoicing when looking back at the challenging 2021; proud of the stability and flexibility of SAIGONBPO; surprised by the awards and lucky draw, etc.
Opening the event was the song "Spring Whisper" & "What did you do last year?". The sweet voice of Mr. Quyet from the Telesales Department helped to make the program atmosphere warmer and more bustling.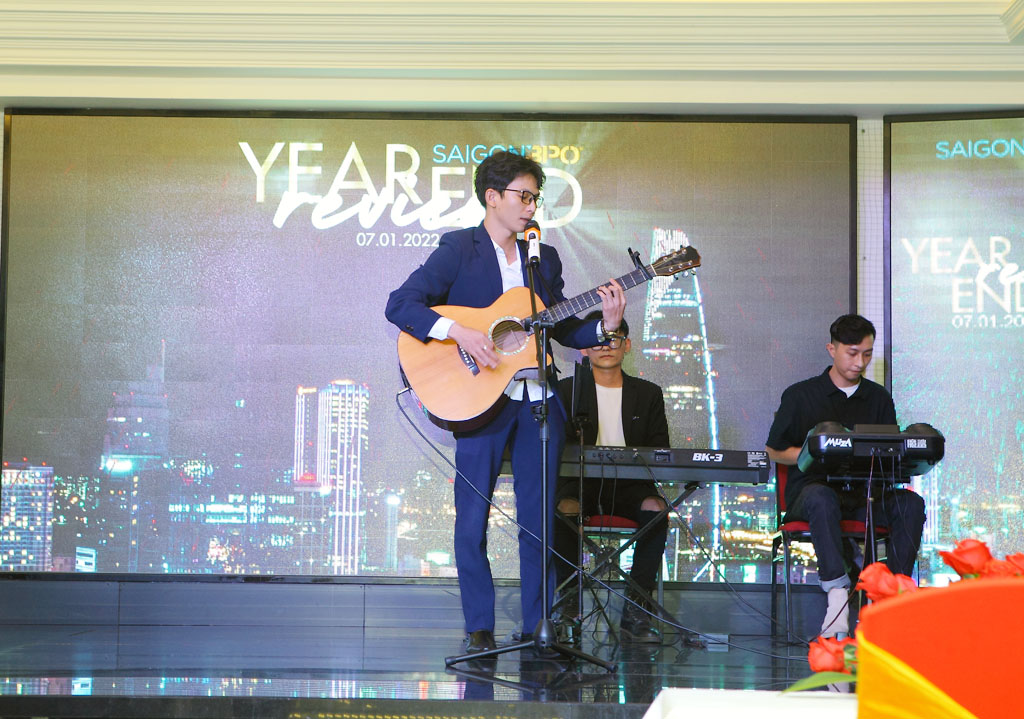 The acoustic performance kicked off Year-End Review 2021
Following the program was a report on business activities from Ms. Nguyen Thi Phuong Thao – Director of SAIGONBPO. Ms. Thao shared a lot of interesting information about the past year: the company's efforts in maintaining business operations in the social distance time, the company's achievements, the orientation company in the new year, etc.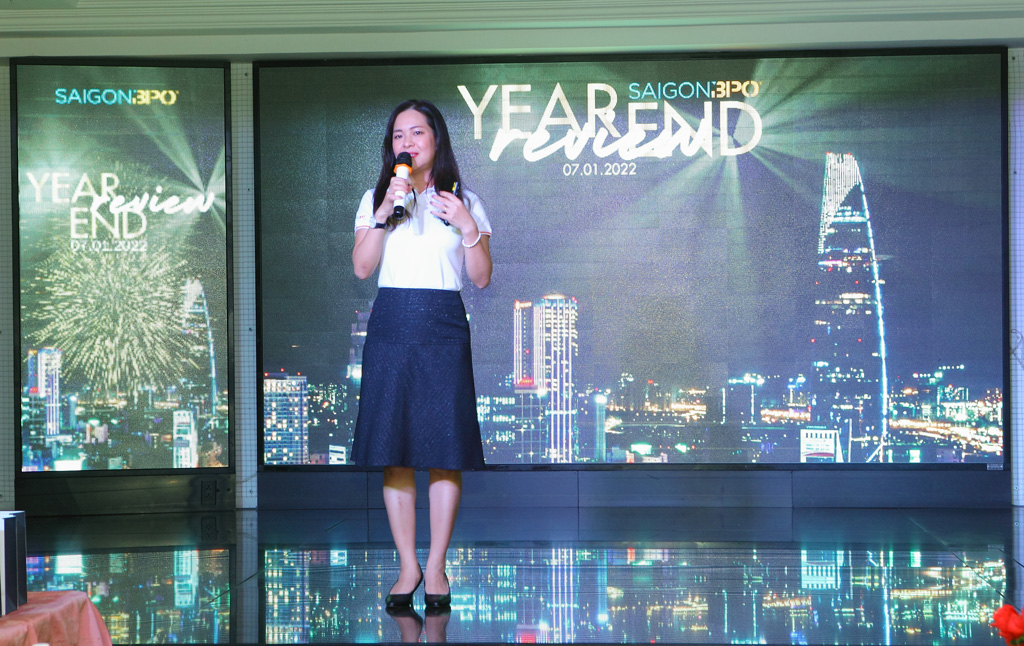 Ms. Nguyen Thi Phuong Thao with interesting reporting information
After the "Covid Marks" part, the whole audience was excited with the "Covid-19's Hero Award" which SAIGONBPO-ers showed appreciation to the members who have "rolled out" with the company during the difficult period of isolation.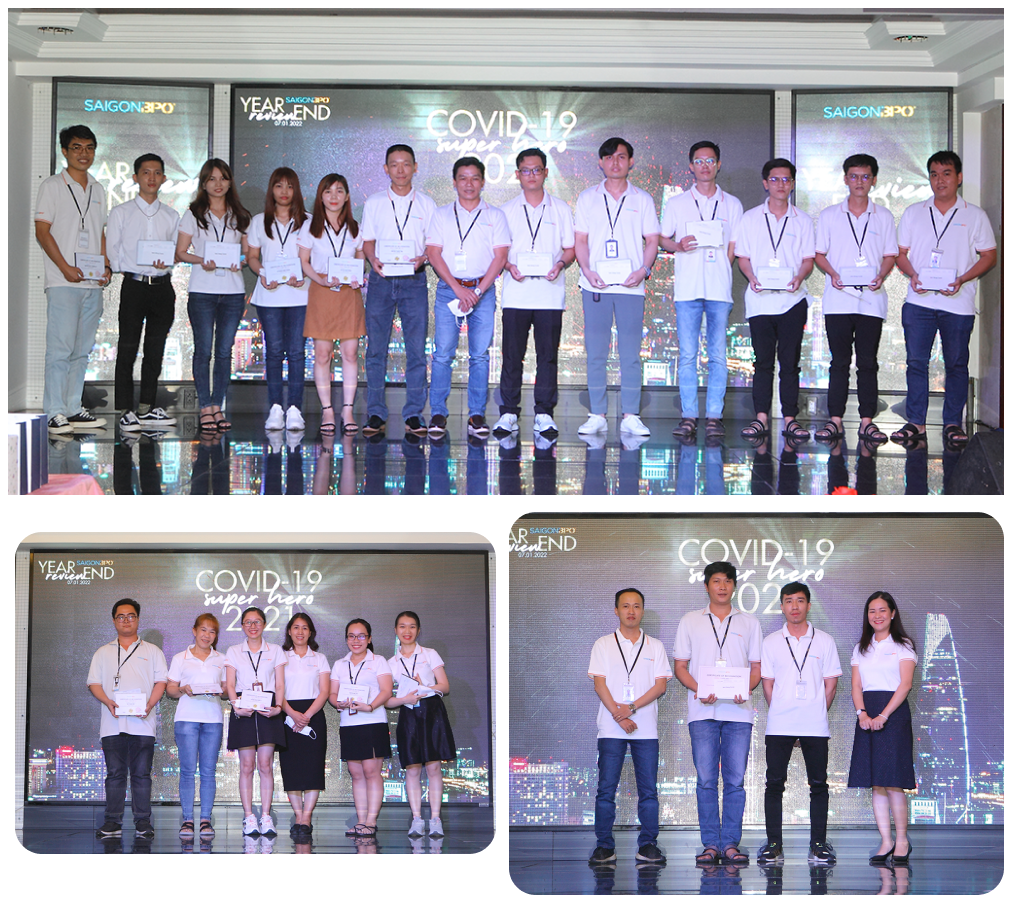 SAIGONBPO's Covid-19 heroes who run/supported SAIGONBPO's projects during the lockdown period
The most surprising part of the event is probably the Long Service Award where SAIGONBPO thanked the members who have spent 5 years of their youth at SAIGONBPO and made contributions to the company development.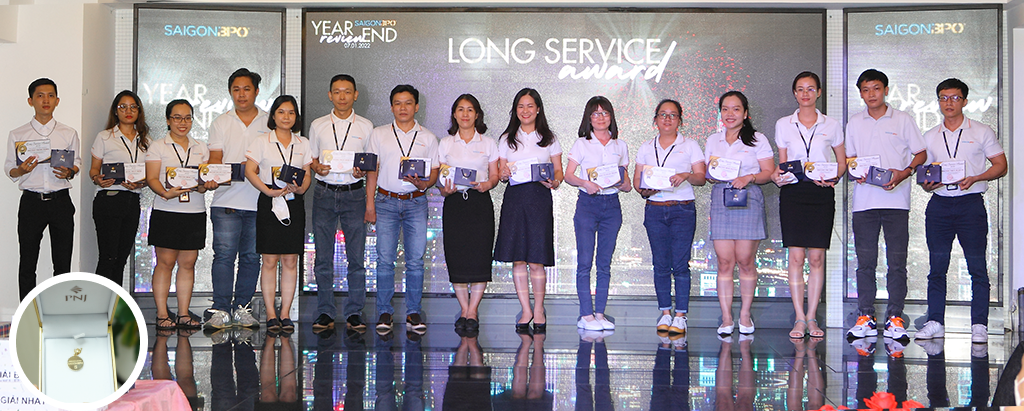 The Long Service Award for the members who have been with SAIGONBPO since the early days
The most suspenseful part of the program was probably the "Lucky draw". The whole audience is focused on the numbers dancing on the screen, hoping that this year's gifts will belong to them.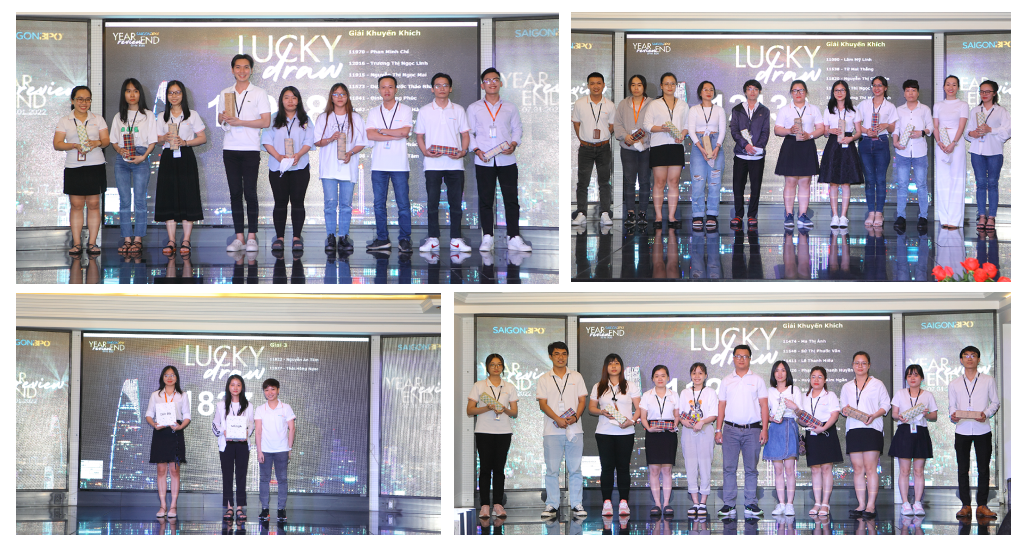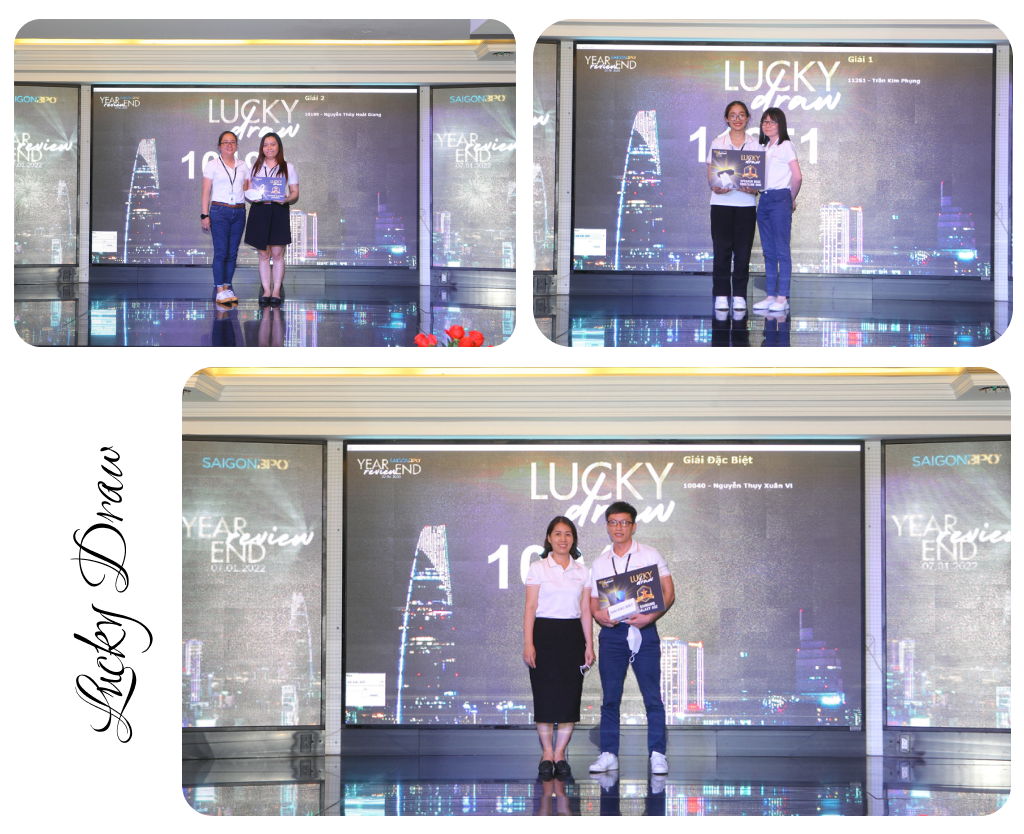 Lucky members receive gifts from the event
2021 was a challenging year, but SAIGONBPO still maintains the "Employee of the Year" Award to reward individuals with the best performance, recognizing their dedication and efforts for work.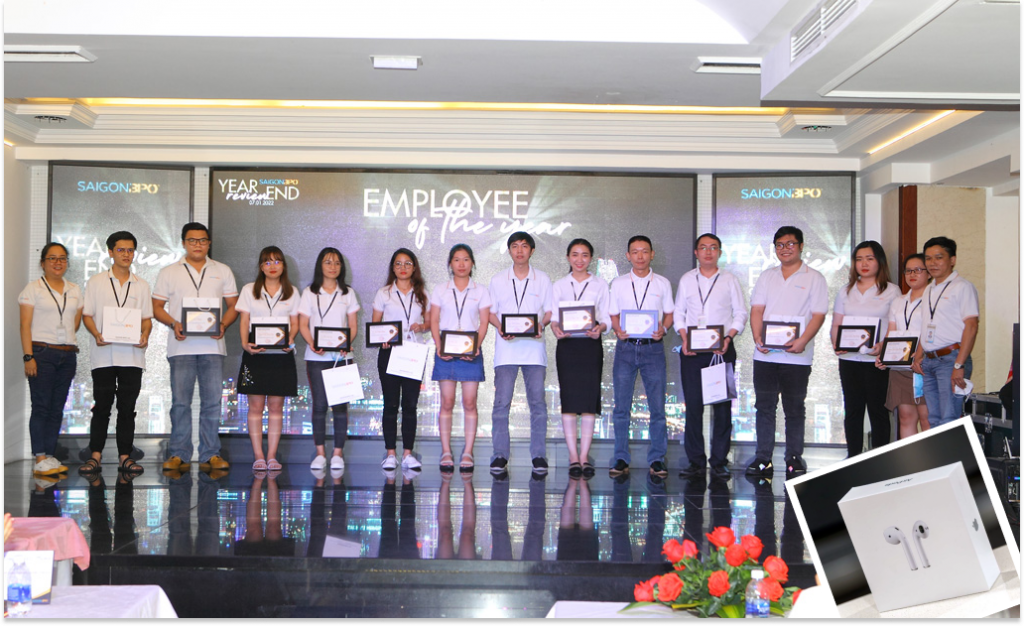 Excellent staff of the departments: Data processing, Document processing, Quality management, Customer service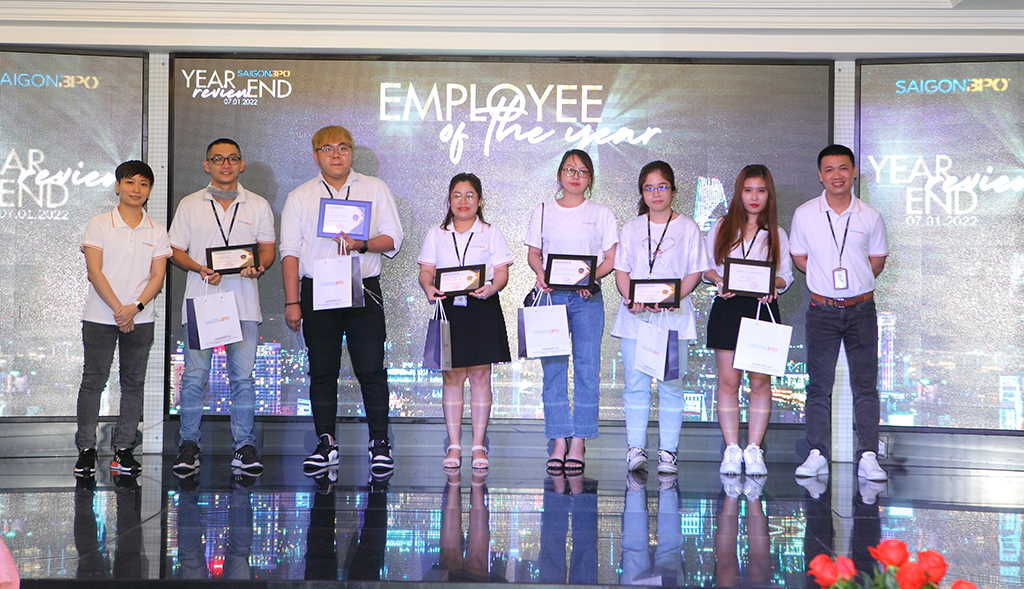 Besides, the program also announced the results and awarded the contest "Memories of 2021 – Memories 2021". This was a contest to help members look back on the turbulent year of 2021, but full of interest and sharing from the company, family, and colleagues.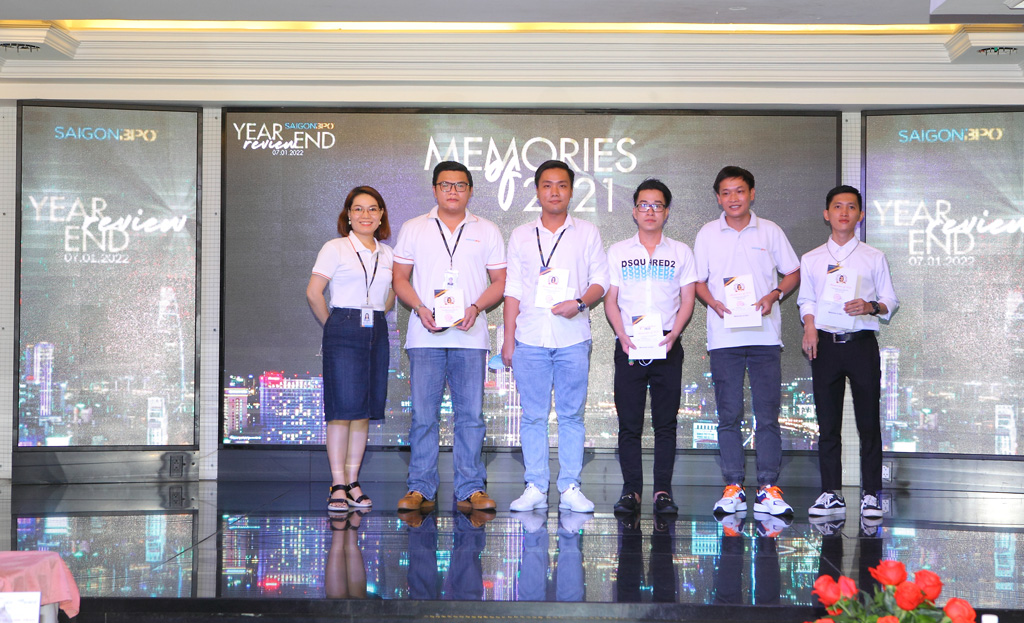 Representatives of the groups received the prizes of the contest "Memories of 2021"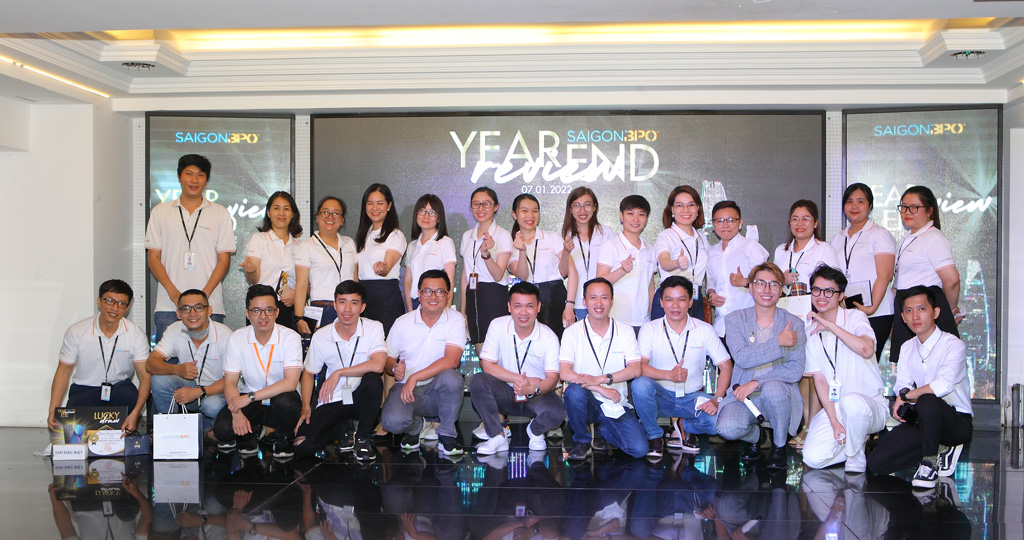 The Year-End Review 2021 program ended with joy and hope for a more successful and brilliant new year of SAIGONBPO. Thank you to the members who have always been with the company, wish you all a year of 2022 with lots of health, joy, and happiness.